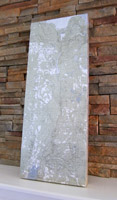 Paul Whitenack of Minneapolis and 3 close friends decided to take a very unique trip earlier this year.  They canoed from Lake Superior to Lake Michigan in 4 days, using streams and rivers to cut through the Upper Peninsual of Michigan.   After returning, Paul contacted us to see if we could make him a map that would help the memories of his adventure stay alive for years to come.
The map was created by combining 30 larger maps, patching, and reducing their size down so that they created a single, very detailed map.  Here is Paul's story and some images from his trip.
[quote]"The creation of our Blueprint Map must have been especially challenging because we wanted it to display a 60-mile canoe route, rather than just a single lake. After our gang of four canoeists retraced a historic trade route across the Upper Peninsula of Michigan established by the Voyageurs in the 1700's, starting in Lake Superior, paddling and portaging across a series of lakes and rivers of the UP and finishing in Lake Michigan four days later, we wanted something special to commemorate our voyage. Brad was able to create a beautiful map that conveys the large scale of our journey, yet contains enough detail to clearly display the route that we navigated and the topography of the landscape. The map looks great on the wall of my office and will serve as a treasured reminder of our voyage long after the photographs and the memories begin to fade." -Paul Whitenack[/quote]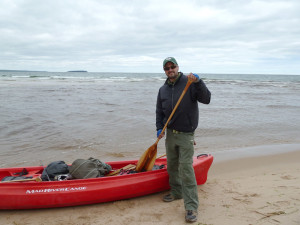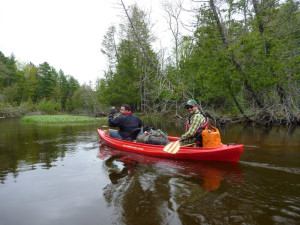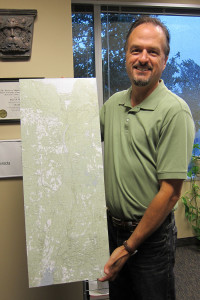 Along with the many details on the map, we also placed custom icons that indicated the location of each campsite they stayed at on the journey. Listening to Paul describe the trip as we placed each icon was very cool for me.
Even though the map was challenging to create, the look on Paul's face when I delivered the map made the process very worthwhile. If you or someone you know has a custom map project you would like to talk about, definitely call me at 651-230-2719… I would love to discuss it with you and help turn your memories into a unique piece of art.
Thanks again Paul for the opportunity to create this map for you!