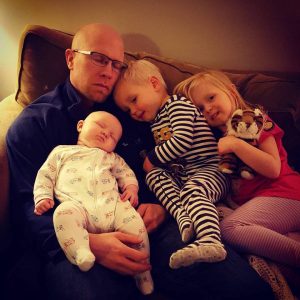 We are happy to announce that 2016 was another great year for our business, and an even better year for our family.  Our 3rd child, Hazel, was born in September.  This has been a great blessing to us and she is the sweetest baby.  Her brother and sister love very much her too, but along with all our other responsibilities, she has made us tired!
We still been able to find time to fulfill our map orders however and we strive to put out the highest quality product, combined exceptional customer service for each and every customer. In doing so we were fortunate to received 12 new reviews on ETSY this year, and EACH of them were of the highest ranking… 5 STARS!!! Here are a few of them:
"My husband and I love this map! Amazing detail and a beautiful piece of art. Thank you, Blueprint Maps!" Jane Hixson on Jan 22, 2016

"We love our map! Exceeded our expectations. Brad was great to work with!" Kristi Bruckschen on Jul 25, 2016

"We love our map of the Whitefish chain! It came packaged extremely well and in time for Christmas! Thank you for a beautiful gift." Kristi Halverson on Dec 26, 2016
In addition to these, we received many emails and phones calls. Hearing from our happy customers, and discussing our product with new customers is always one of our favorite parts of this business.

Here are some of the key highlights from 2016
• In February we wrapped up another huge year at the Lake Home and Cabin Show in Minneapolis. Thank you to all the customers and my "helpers" who made it possible.
• Our online sales through Etsy has really taken off. Now 70% of our sales come through that website (and only 20 of our lakes are listed on there). You can visit our Etsy shop here: https://www.etsy.com/shop/blueprintmaps
• Had a very successful 3 days at the Lake Home and Cabin show at the Minneapolis Convention Center.
• We donated maps to the silent auctions for Feed My Starving Children and New Life Family Services, both events were a huge success!
• One of our maps was featured in the Parade of Homes…which led to a boost in sales and many great compliments!
• We were able to get away to the lake on a quite a few weekends, which has always been our favorite place to be.
• We began a small Facebook Ad campaign, leading to greater exposure and new sales. We hope to figure this out more in 2017 as you can target specific lakes.
• As mentioned above, our youngest daughter Hazel, was born in September. We now have 3 kids, ages 4, 2, and baby.
• We cranked out quite a few new lakes this year including: Big Sandy, Ten Mile, Clearwater, and more!
• We also have been contacted by more and more retailers from various parts of the state who desired to sell our maps.
• Lastly, our orders which featured Custom Icons went up again in 2016. We love making our maps even more unique and personal, so if you are interested in that option we are happy to help!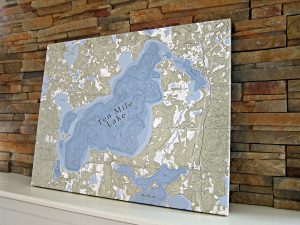 As things get busier we will never forget the days when we first started. We had a simple belief that every cabin should have a map of the lake and worked so hard to make sure every customer loved their map. We have tried our best to make a beautiful product and are so grateful our work has become a favorite piece of art for you and your guests. Thank you so much for coming along side of us on the blessed journey. We are looking forward to 2017 with great anticipation!
Brad